The cost of your treatment will vary, depending on your individual needs and treatment plan. We will discuss the cost of your treatment and each of your available payment options with you before you begin, so you can make the best choice for yourself.
Our Wellness Plan
Our Wellness Plan is a reduced fee membership program that allows individuals and families to receive quality dental care at affordable prices without the hassles of traditional insurance plans. This plan will help assure your dental health in the absence of conventional insurance coverage.
Wellness Plan Costs: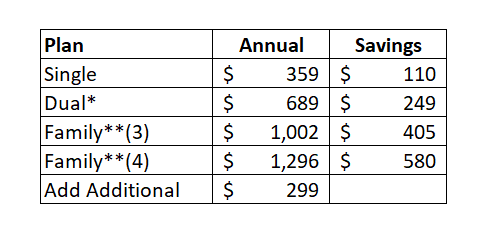 *The dual plan is for parent/child or spouses only. **The family plan includes family members and children under 18 or children who are enrolled in college full-time until age 23.
Wellness Plan Benefits:
Our Basic Plan for $359 Includes:
2 Regular Cleanings
1 Comprehensive Exam
1 Annual Periodic Exam
1 Fluoride Desensitizing Treatment
Full Mouth Series of Xrays
2 Oral Cancer Screenings
10% Discount off other services (fillings, crowns, veneers, dentures, implant restorations & more)
15% Discount off deep cleanings & full mouth debridements
No deductibles, waiting periods, yearly maximums or hidden fees
Affordable Payment Plans
Your smile is yours forever, and we want to make it as easy as possible for you to receive the best dental care when you need it. Our office staff is always available to help you with insurance claims and paperwork.
Our practice accepts most major credit cards and insurance plans.
Please let us know if you have any questions about your insurance coverage.