We recognize that all our patients are unique and deserve to receive dental care that reflects their individual needs. Our experienced and talented dental team is committed to working with you and your family to create a comfortable, stress-free, and rewarding dental experience every time you visit our practice.
We are pleased to welcome you and your family, and we look forward to working with you.
---
Dr. Alqasemi - Associate Dentist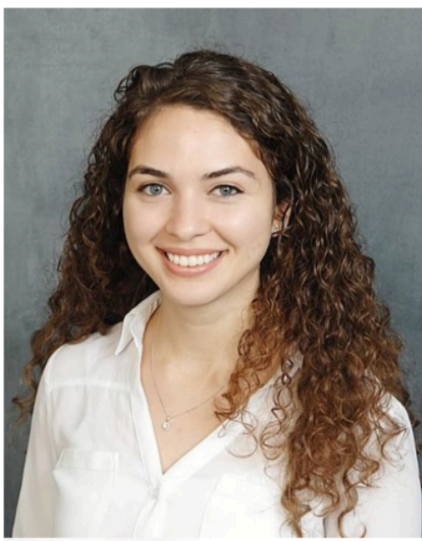 As a Florida native, Dr. Alqasemi grew up in Wesley Chapel. She earned her bachelor's degree in biomedical sciences at the University of South Florida Honors College. Shortly after graduation, she pursued her Doctor of Dental Surgery (DDS) degree from the prestigious New York University where she excelled and graduated with honors in periodontics. As a devoted academic, she went on to further her training by completing a rigorous general practice residency at Penobscot Community Health Center where she received comprehensive training in areas of restorative treatment, oral surgery, endodontics, dental implants and tissue grafting. Dr. Alqasemi prides herself in staying up to date on the latest advancements in dentistry by taking continuing education courses in cosmetics, implants, occlusion and airway dentistry.
Dr. Alqasemi's philosophy encompasses the understanding that the mouth is a window to the rest of the body and that her patients' oral health extends beyond their teeth. She strives to provide excellent comprehensive and preventative dental care with compassion. Her attention to detail and her gentle touch are what patients can expect on a daily basis.
Dr. Alqasemi now lives in the Tampa Bay Area with her husband. She enjoys spending time with family, exploring the outdoors, gardening, as well as discovering new local coffee shops.
Melissa - Dental Hygienist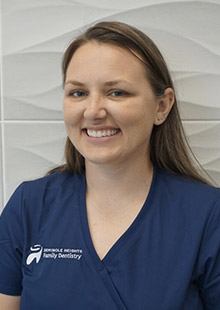 I graduated with an AS in Dental Hygiene from Hillsborough Community College, where I now teach part time. I also have a Bachelor of Science in Biology and a Master's of Public Health in Public Health Education from the University of South Florida. I provide oral health education to our clients, as well as performing preventive dental cleanings and non-surgical periodontal therapy. The best part of my job is increasing health literacy of my patients. I strive to educate them concerning their oral health in order to help them make the best health choices possible for their individual situations. Education is my passion and an essential component of my job.
I have lived in Old Seminole Heights for more than eight years. I have a dog Fozzie, two geckos, and four chickens. I enjoy traveling and being outdoors for activities such as camping, hiking, and kayaking. In my free time, I volunteer for Special Olympics of Florida performing free dental screenings for people with intellectual disabilities.
Emily - Dental Hygienist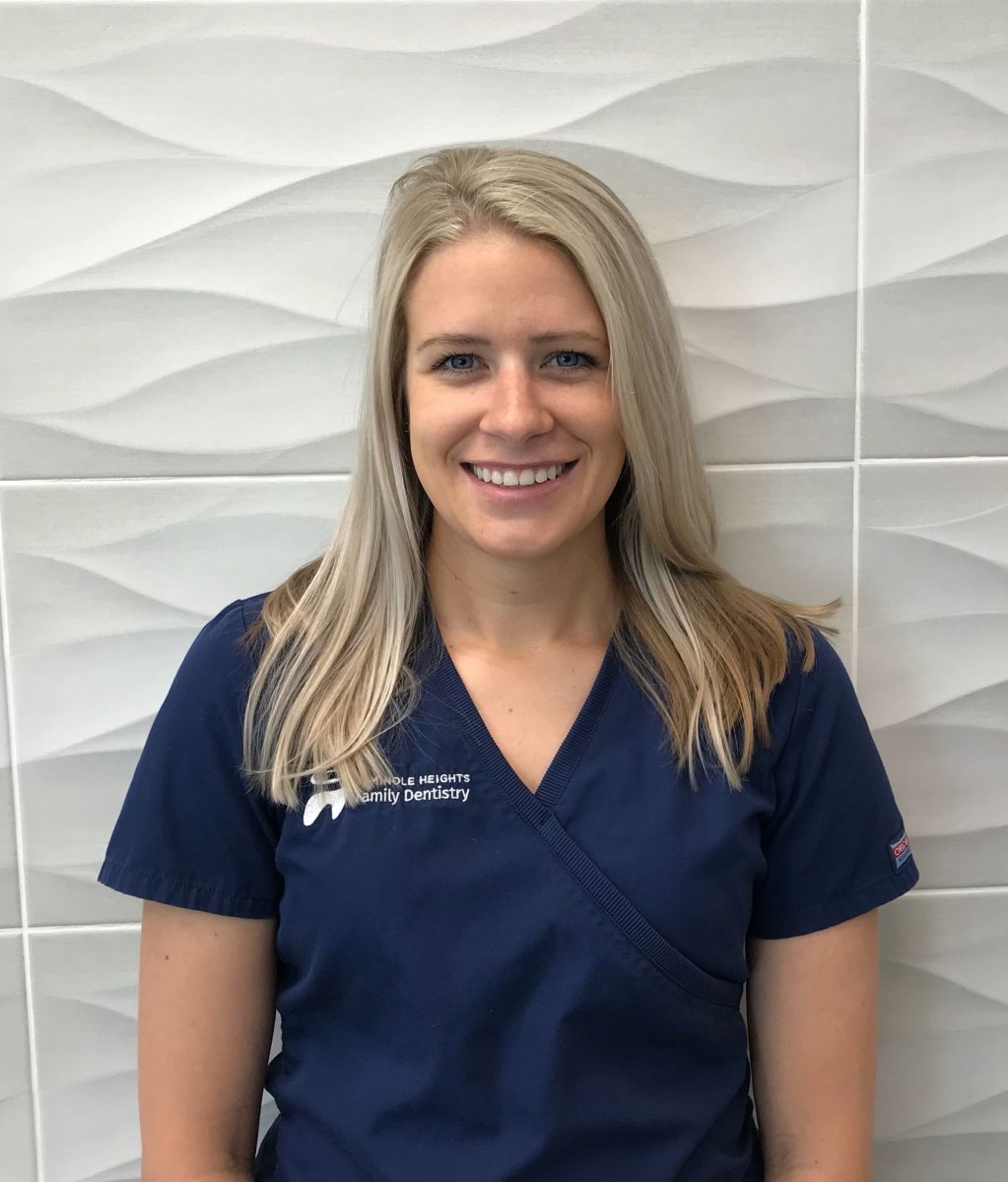 I started in the dental field in 2012 working as a dental assistant. After working as an assistant I realized dental hygiene was my passion and decided to become a dental hygienist. I graduated in 2015 with my dental hygiene degree from Santa Fe College in Gainesville, FL. While living in Gainesville I met my wonderful husband Blake.
We moved to Tampa in 2016 and in October 2019 we welcomed our first child-Reese! We are head over heels and love watching him learn and grow! In my free time I am a member of The Junior League of Tampa and love to attend their volunteer and social events around the community. On our days off, my husband and I love to take Reese and the dogs to Little Gasparilla Island where we enjoy the beach and fishing!
Audrey - Office Manager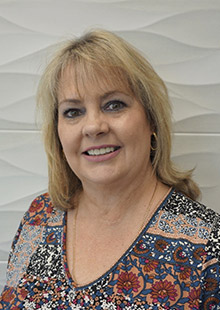 I am the first person you will speak to at the office, and will take care of scheduling, verifying your insurance, and treatment planning. I love to help patients, especially when it comes to understanding their insurance benefits. It is also fulfilling to help patients get over their fears of seeing the dentist, especially Dr. George! She is such a wonderful person, always smiling and happy. She has one priority: making our patients feel comfortable and happy.
I am a Tampa native. I have been married to my husband Moises for 33 years and have three beautiful children and one beautiful grandbaby. I love going to the beach, fishing, hanging out with friends and family, and did I mention I have a beautiful grandbaby? She is my pride and joy!
Kristina - Front Office / Dental Assistant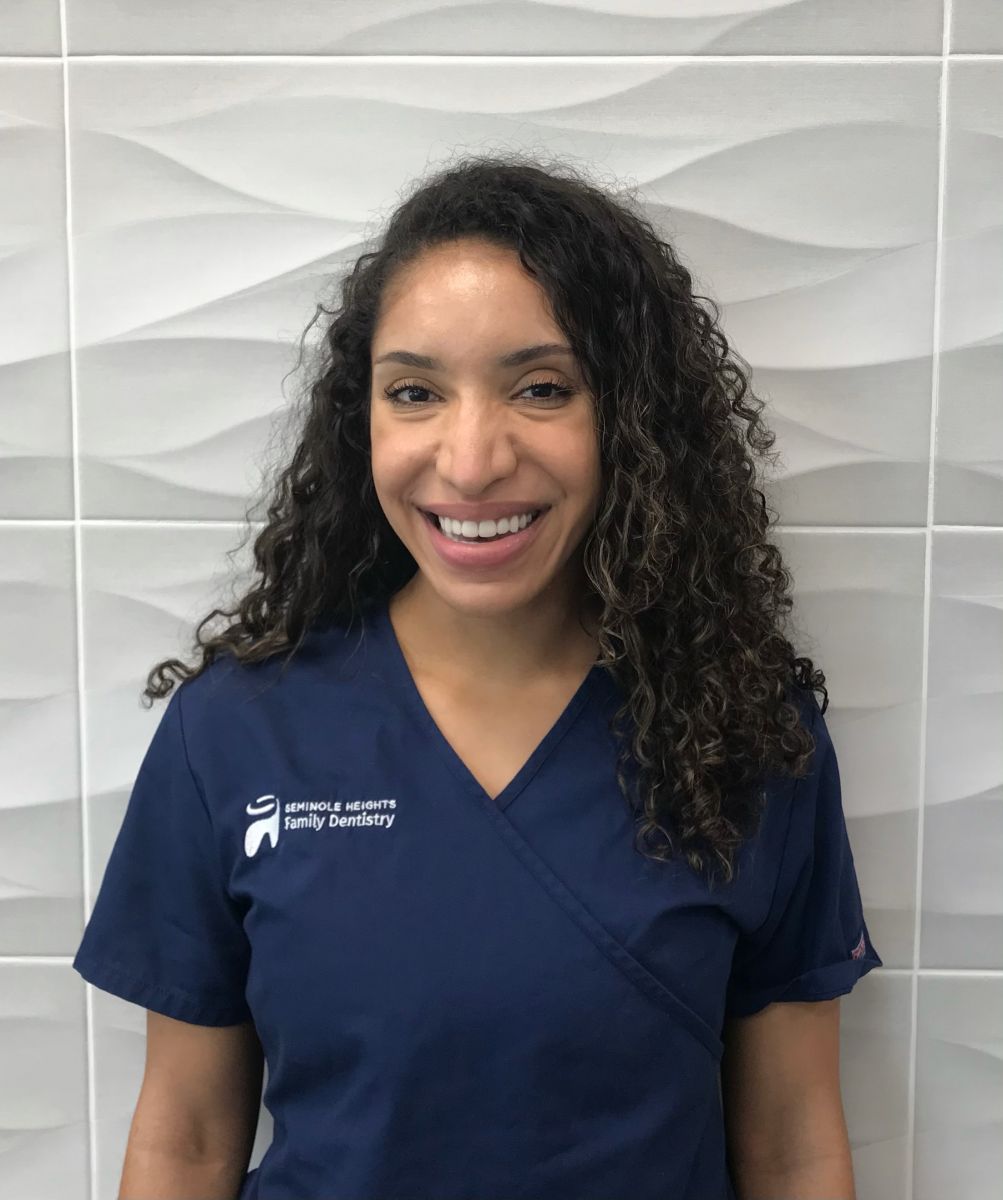 Hi, I'm Kristina! You may have met me at the front of the office greeting you or working with your insurance; and/or in the back of the office assisting the doctor. I'm fairly new to Florida and to dentistry but I wouldn't change a thing! I am enjoying the journey.
I made my big move from Minnesota in 2019 to ultimately escape the snow and live closer to my family. So on the weekends, I love spending time with my niece and nephew and almost any kind of physical activity. My favorite thing to do is running or cycling the Riverwalk and Bayshore.
Jummy - Dental Assistant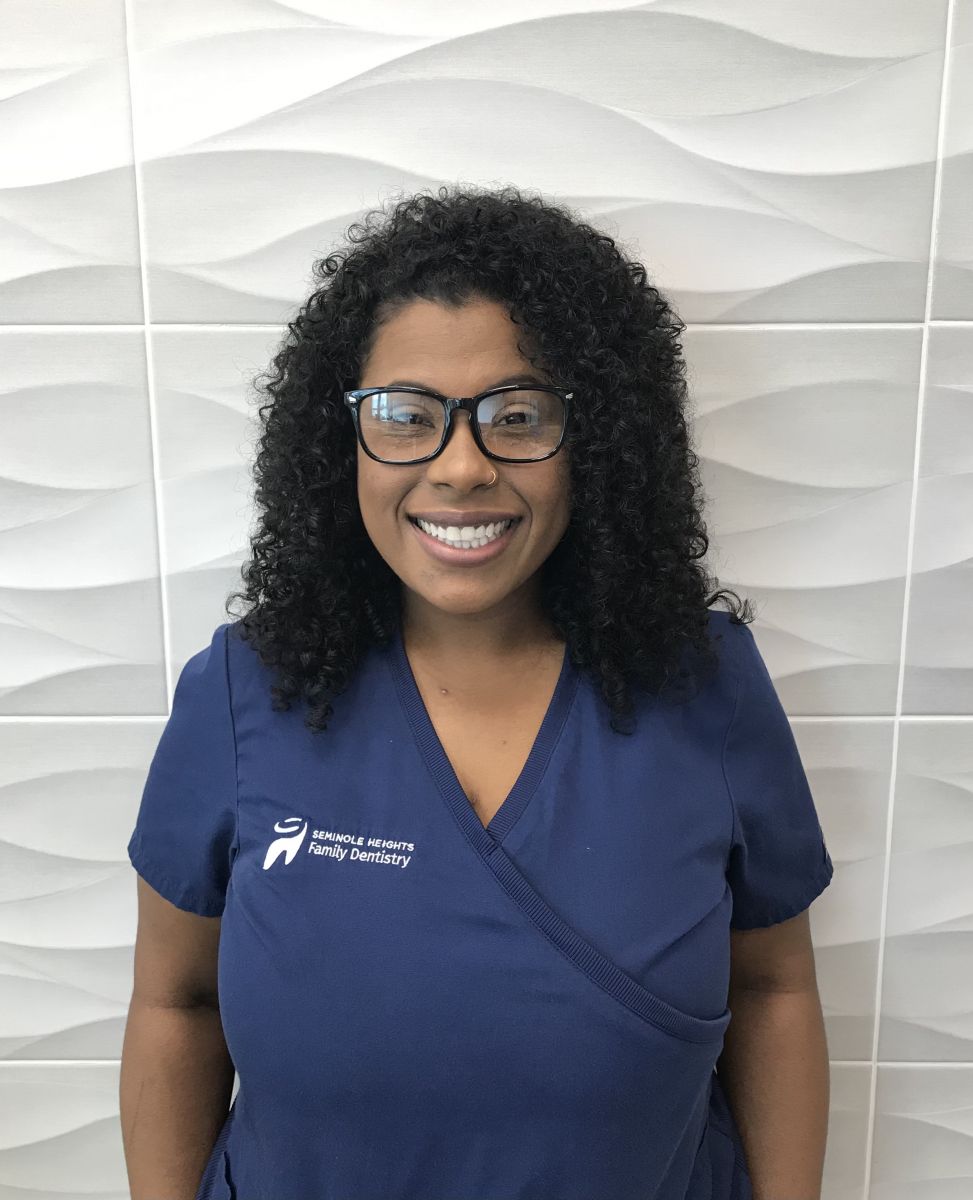 I began my dental assisting career in 2011. I always has a smile on my face and love to seeing patients smile! I also enjoy working with children and ensuring that they have a great dental experience to take with them throughout life.
In my spare time, I enjoy hanging out with family and close friends. I also enjoy working out at Burn Bootcamp. I do have a slight shopping habit, but I'm working on it :)
Rhea - Dental Assistant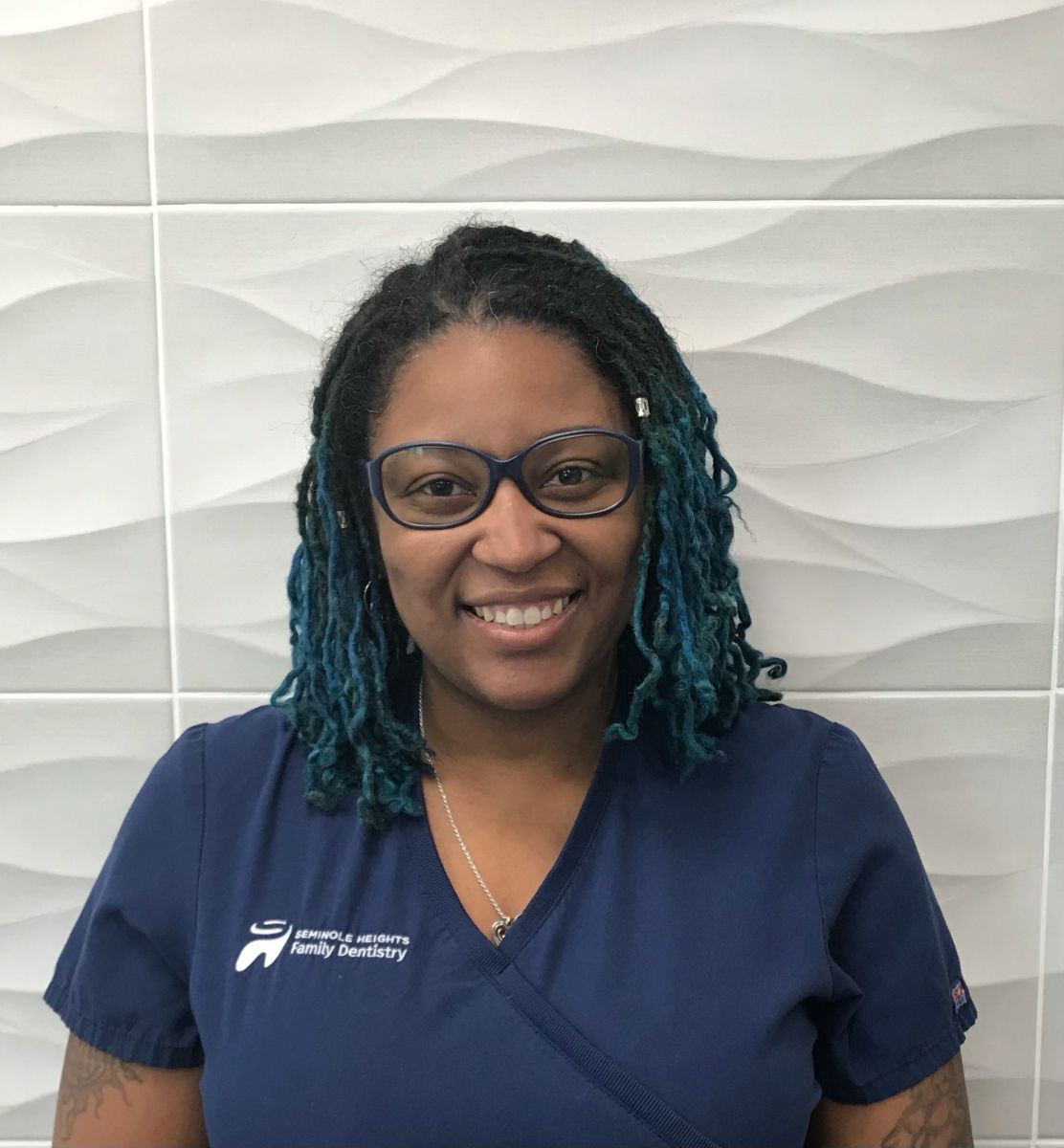 I started as a dental assistant in 2013 in Baltimore, MD. I moved to Florida with my husband and 3 boys where I earned my certificate in EFDA.
I love to see happy people and love to see people smile.